Medical Center at Elizabeth Place Facing Possible Closure
Another Dayton medical center is at risk of closing following a decision by the Centers for Medicare & Medicaid Services (CMS) to remove it from the federal program.
The Medical Center at Elizabeth Place (MCEP) has been operating at the former St. Elizabeth hospital site since 2006. The physician owned facility has 12 private, inpatient rooms, five operating rooms, an imaging center, and on site urgent care among other services.
Those services are at risk now that CMS has enacted a new regulation stating that medical facilities "must average two patients a day for the previous year to qualify as a hospital," according to MCEP.
The letter from CMS, under the Department of Health and Human Services, states: We have determined that the deficiencies limit the capacity of your facility to render adequate care and ensure the health and safety of your patients. Consequently, we are terminating your participation in the Medicare program.
At a press conference Monday, MCEP CEO Beth Johnson said they have filed an appeal on that decision.
"It had nothing to do with clinical quality," she said. "It had nothing to do with the care that we render, or the community need for that matter. It was strictly based off of CMS' interpretation of what constitutes a hospital."
Johnson says their initial appeal to Medicare & Medicaid Services simply asked for more time to become compliant with the new regulation but was denied.
Dayton Mayor Nan Whaley, and Congressman Mike Turner, were both on hand for the press conference and spoke in support of the medical facility. As was the Reverend Rockney Carter who has been heavily involved in the protests of the closing of Good Samaritan Hospital.
President & Board Chairman, Dr. John Fleishman says MCEP has seen an increase in patients from Dayton's west side since Good Sam's closing. He noted during the press conference, held on the national Martin Luther King Jr. holiday, that it was an important day to remember people who have dreams, referring to King's famous 1963 speech.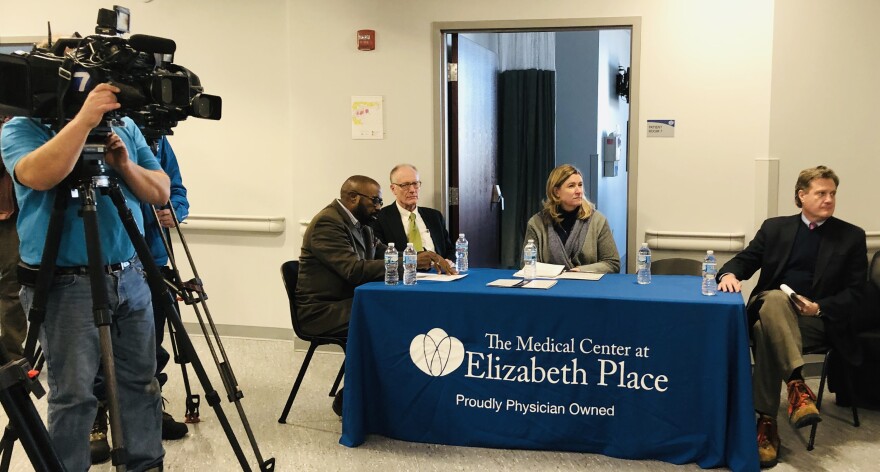 "We had the dream of resurrecting the old St. Elizabeth Hospital and our goal was to actually turn this back into what it used to be, which is a real Hospital," he said. "The dream became a reality. We haven't gotten to be as large as we wanted to be but during those 12 years we have provided superior healthcare to the patients of West Dayton and patients from all over Dayton."
Fleishman is frustrated by the CMS decision, which he called "surprising and unexpected," and contradicts what the center demands of their facilities - to improve outcomes for patients and lowering costs.
"We provide higher quality services than are competitors, we have extremely low infection rates here, we have very short length of stay much shorter than national averages. That's part of our problem possibly."
The board president also cites high satisfaction scores from their patients and says MCEP is "significantly more cost-effective than our large hospital competitors. We are 30 to 50% less expensive for a comparative procedure here at the Medical Center at Elizabeth Place."
Roughly 60 to 65 percent of MCEP's clients are Medicare/Medicaid patients so the new regulation could force the facility to close, affecting about 90 employees.
MCEP says both Ohio senators, Sherrod Brown (D) and Rob Portman (R), along with Representative Turner have made calls to the Centers for Medicare & Medicaid Services in an effort to appeal the ruling. The legislators have also filed a joint letter asking CMS to work with MCEP administrators to find potential solutions and avoid any disruptions in patiernt care.