West Dayton Fights High Infant Mortality Rates With Baby Showers, "Baby Boxes"
Montgomery County has some of the highest rates of infant mortality in the country. Data show the problem affects African Americans at all income and education levels much more often than whites.
Among the leading causes are premature birth and low birth weight.

Now, a West Dayton neighborhood organization is experimenting with an innovative approach designed to help more Montgomery County babies reach their first birthdays, by targeting the highest-risk pregnant women.

At the Wesley Community Center in West Dayton, volunteers gather toys, games and wrapped presents onto a long table and pass out pieces of colorfully frosted sheet cake for a baby shower.
"Cake? Would any of you ladies like some cake? We have chocolate or vanilla," a volunteer asks the few dozen parents, mostly pregnant women, sitting in groups at round tables.
Organizer Angela Matlock says every one of them will be sent home with an armful of goodies.
"Today they will be getting baskets, like what you get at a baby shower, with different things inside of them, playing games, just like at a real baby shower. The games, the food, all that is included," Matlock says.
The Wesley Community Center holds these baby showers once a month.
They're parties, but Executive Director Yvette Kelly-Fields says they're also the tip of the spear for the center's public health campaign to reduce infant mortality -- babies who die before the age of one.
"It's more of a way to get people to come in, versus saying, hey, we want to help you with your baby."
"Our goal is to make sure every pregnant woman gets connected to some kind of service, particularly any one that can provide a visiting nurse after the birth of the baby, so they have a baby that's healthy," she says.
Organizers at the baby shower events want to sign up as many Medicaid-eligible women as possible for Montgomery County's visiting nurse program.
West Dayton is the epicenter of Montgomery County's infant mortality crisis.
African American babies here die more than three times as often as white babies. The risk is highest in seven Dayton zip codes, and one in Trotwood, according to Public Health Dayton and Montgomery County.
"So, that is what raises an alarm," Kelly-Fields says. "Why is this particular spot in West Dayton seeing such a high infant mortality rate in comparison to all the rest of the county, in comparison to all the rest of the state, in comparison to all the rest of America?"
Kelly-Fields says premature birth and low birth weight are the leading causes. Other contributing factors could include poverty, limited access to healthy food, transportation, prenatal care or education.
But research finds, statewide, African American women with at least five years of college are still more likely to deliver a preemie than even poor white women with a high-school degree or less.
NPR recently reported racial discrimination and chronic stress may make early labor more likely, leading to premature births and low birth weight.
Kelly-Fields sees that phenomenon play out in West Dayton every day.
She says the stress many African American women face is often compounded by isolation or a lack of support.
"If I'm first-time mom, if I have a kid who has had a low birth-weight, maybe has some health issues, I put my kid in daycare. They get sick, I can't go to work, I don't have anybody to watch the kid, so I have to take off to take care of the kid. Well, you know, how many days can you take off from a job before you get fired?"
The Wesley Community Center and other Montgomery County groups want to fill that support gap by supporting high-risk women before and after their babies are born.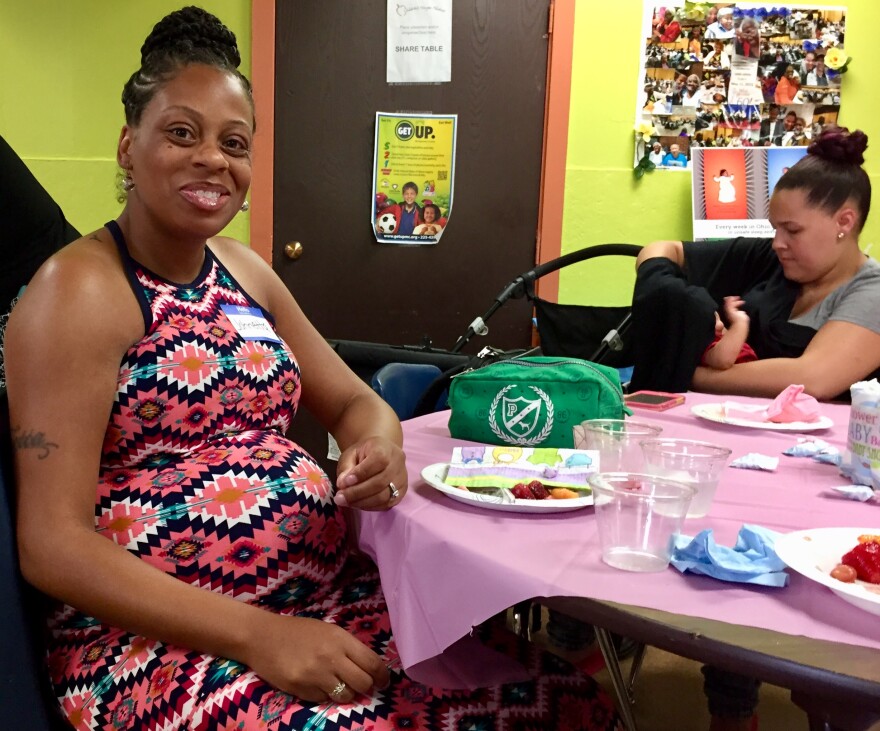 Johnetta Webb is preparing for her second child.
"I am 33-weeks pregnant. I am counting. Ready to bust, out of breath, tired, I can say that," she says.
Webb says she heard about the baby shower from a neighborhood friend and knew right away she wanted to come.
"I never knew the community reached out to pregnant women like they do. And I was interested to come and see what it was like and get more information about certain stuff," she says.
Stuff, like maternal and child health. Her first child is 11 years old. Webb says she's interested in learning more about breastfeeding.
"I didn't do that with my first child, so that is something new for me, something I know that I'm going to need more education on."
And, since last year, any new moms who don't have a crib or bassinet for their newborns to sleep in get a free, portable baby bed called a baby box.

"And it comes with this little package of stuff. It comes with diapers, comes with some wipes, a sheet and a little thin mattress."
Kelly-Fields and Angela Matlock demonstrate how the box works. It's made of sturdy, pastel-colored cardboard with handles on the sides. It's designed to fit babies up to six months.
Kelly-Fields says the baby box helps guarantee babies have a safe, dedicated place to sleep, no matter where they are.
"The whole thing is that the baby can't roll over on its side. In the crib, the baby can fall over and get wedged in, hence get smothered. You can't do that here. They can take it everywhere, so if they have to go stay the night someplace they don't have to drag a Pack 'n Play or whatever -- just take this."
"And afterwards it can be used as a toy box," says Matlock.
To take a baby box home, parents are required to watch an educational video about preventing Sudden Infant Death Syndrome or SIDS.
The baby box program is similar to one that's credited with helping to almost eradicate infant mortality in Finland over more than seven decades.
But, some in the United States have questioned whether there's enough data or research to prove the boxes are indeed safe and effective.
The Ohio Department of Health reports safe-sleep efforts are having an impact.
The number of sleep-related infant deaths statewide dropped by 22 percent in 2016 compared to the year before.
Still, the number of Ohio infants dying before the age of one is on the rise.
"While we have seen some progress in preventing sleep-related infant deaths, we still have a lot of work to do, particularly in the areas of premature births and racial disparities. That is why the state is investing millions of dollars in local initiatives that will help more Ohio babies reach their first birthdays, particularly in high-risk communities and populations," Ohio Department of Health Director Lance Himes said in a recent report.
The department of health reports the majority of Ohio's infant-mortality deaths are concentrated in just nine metropolitan areas, including Dayton-Montgomery County.
In response, Gov. John Kasich's administration has boosted funding for community based programs that work to reduce racial disparities and improve birth outcomes in the hardest-hit communities across the state.
Kelly-Fields is optimistic about West Dayton's baby box program.
"Being in the program almost guarantees success. We have not had no loss of life," she says. "Everybody, so far, has had a successful birth and their children are still living and thriving."
To demonstrate the program's effectiveness, organizers from the Wesley Community Center are collaborating with Montgomery County to collect more longterm data.
The goal, Kelly-Fields says, is to expand the program to reach even more high-risk women and babies.
Read more about infant mortality from the National Center for Health Statistics.
Find out more about the Wesley Center's infant mortality prevention programs.
_