Culture Couch is WYSO's occasional series exploring the arts and culture scene in our community. It's stories about creativity – told through creative audio storytelling.
Cincinnati Explores Mapplethorpe 25 Years After The Moment
In the late 1980's, photographer Robert Mapplethorpe's exhibition "The Perfect Moment" fueled the fire of the so-called "Culture Wars" that pitted politicians like Senator Jesse Helms and the religious right against artists and museums in a battle over federal arts funding and first amendment rights. When Mapplethorpe's exhibit opened at the Contemporary Arts Center in Cincinnati, the museum and its director were brought up on obscenity charges. Twenty-five years later, the museum, through a major exhibit and symposium, is considering the impact of those events on the arts in America.
The city of Cincinnati, Ohio made national headlines on April 7, 1990 with reports of police, protests, and pornography.
Audio of newscast announcer with protesters chanting, peaks at: "What you're watching now is the Cincinnati police as they made their move today against the Contemporary Arts Center, spurring a legal showdown over the controversial Robert Mapplethorpe exhibit."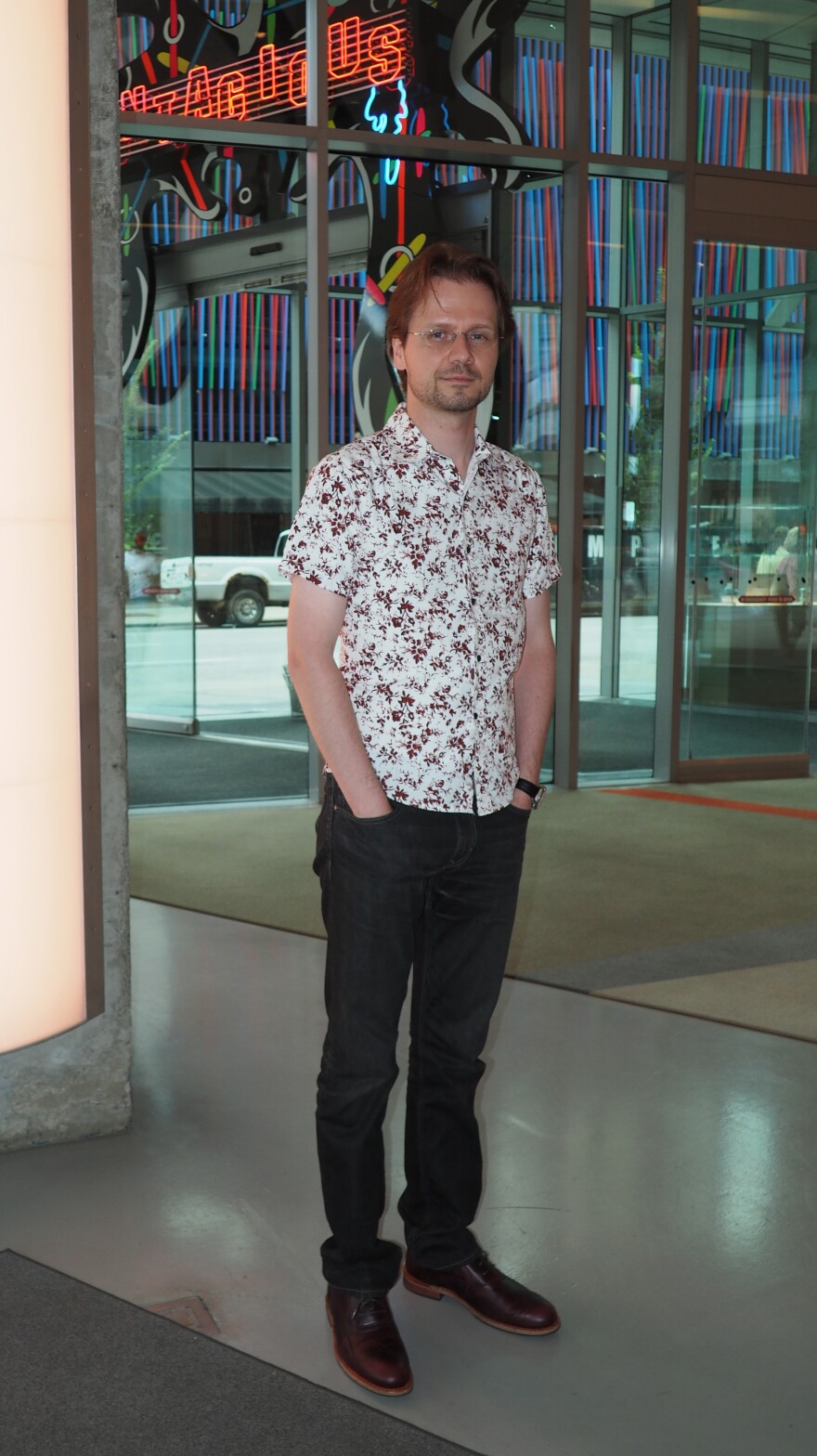 And it was a showdown - a contentious trial over the sexual content of seven photographs in the exhibit. The current curator of the Contemporary Arts Center, Steven Matijcio, has heard plenty of stories about that era since he arrived in Cincinnati two years ago, when his first order of business was to plan for the 25th anniversary of "Mapplethorpe".
"When we say "Mapplethorpe, we mean as much the exhibition and the artist as we do the controversy, the trial, the indictment, the acquittal," says Matijcio. "All of those things become wrapped up in that singular word."
Nationally, that word also came to mean "censorship". Along with celebrity portraits and still lifes, Robert Mapplethorpe was famous for making classically composed images of men engaged in practices of sadomasochism. Mapplethorpe's artwork boldly confronted moral values, and there was tremendous political pressure on museums to remove these photographs from his exhibit.
"I think that we associate that with totalitarian systems of government, where a presiding order decides what the larger public can see, and in a lot of ways that shapes a particular ideology," says Matijcio. "Freedom comes with the ability to decide whether this offends me or not, or whether I want to argue about this. I think that we all need to have that freedom to be exposed to information, whether that's text based information or visual information or any kind of cultural information. A free society needs to be able to make that decision for themselves."
Because Mapplethorpe's images continue to challenge viewers as well as artists, Matijcio commissioned 41 new works for an exhibition called "After the Moment". One invited artist is Joel Whitaker, a photographer and professor of art at the University of Dayton. His idea started with a library book he found on Mapplethorpe's work.
"Someone had actually gone through the book and razored out some of the photographs, one in particular was of two men who were in San Francisco who were in bondage and S&M," says Whitaker. "So I opened the book up almost as if it was a human form, so there's a bit of sexuality to the book, and I photographed the slice, I photographed the cut. I was kind of puzzled by the whole thing because I didn't know did he or she take the photograph out because they found it offensive, or too difficult to deal with, or did they just simply want it for their wall?"
Who gets to decide which images get cut, and why? That question was the legacy left by Mapplethorpe, who died in 1989. As for the trial back in 1990, a Cincinnati jury made up of mostly working class people, including a secretary, a warehouse manager, a saleswoman, and an electrical engineer, decided that Mapplethorpe's work was not obscene. They upheld the first amendment protections that grant the Contemporary Arts Center's right to display his images, the right of the artist to make and show them, and the right of people like you and me to see them.
The exhibit "After the Moment" will be on display at the Contemporary Arts Center in Cincinnati from November 6, 2015 to March 13, 2016. A symposium about Mapplethorpe's work will be held on October 23 and 24. For more information go to www.contemporaryartscenter.org.