Ohio Democrats Introduce New Clean Energy Legislation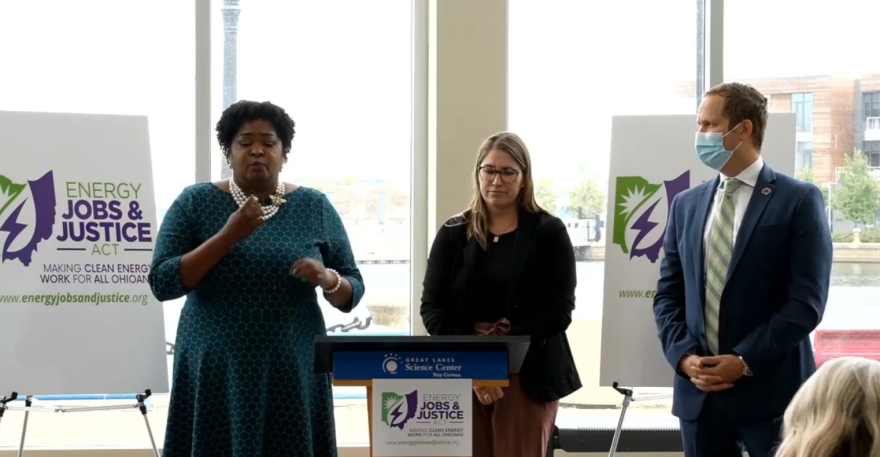 House Bill 429 is expected to establish an Office of Energy Justice that would work directly with the governor to ensure greenhouse gas reductions and to work towards 100% clean energy by 2050
Ohio lawmakers are introducing legislation that would promote jobs in clean energy and environmental justice.
House Bill 429, or the Energy Jobs and Justice Act, would establish an Office of Energy Justice that would report directly to the governor. It would reinstate former greenhouse gas reduction goals and push an initiative for the state to switch to one hundred percent clean energy by the year 2050.
Democratic representatives announced the new bill at the Great Lakes Science Center in Cleveland earlier this week. One of the bill's sponsors, Stephanie Howse, said at the event that the bill would improve the state's energy policy for the environment and for Ohioans.
"The Energy Jobs and Justice Act gets us further down the road in solving the climate crisis with equitable solutions that benefit people and not utilities," said Howse.
Jenny Williams, a junior at Western Reserve Academy, spoke at the event. She said clean energy legislation needs to be passed quickly to preserve the planet for the future.
"Never ever have I or my generation faced so much anxiety surrounding climate change in our near future," said Wilson.
The legislators pushing the bill hope that it will earn Republican support in the wake of the House Bill Six scandal.