Culture Couch is WYSO's occasional series exploring the arts and culture scene in our community. It's stories about creativity – told through creative audio storytelling.
Exploring Fairborn Through Augmented Reality Gaming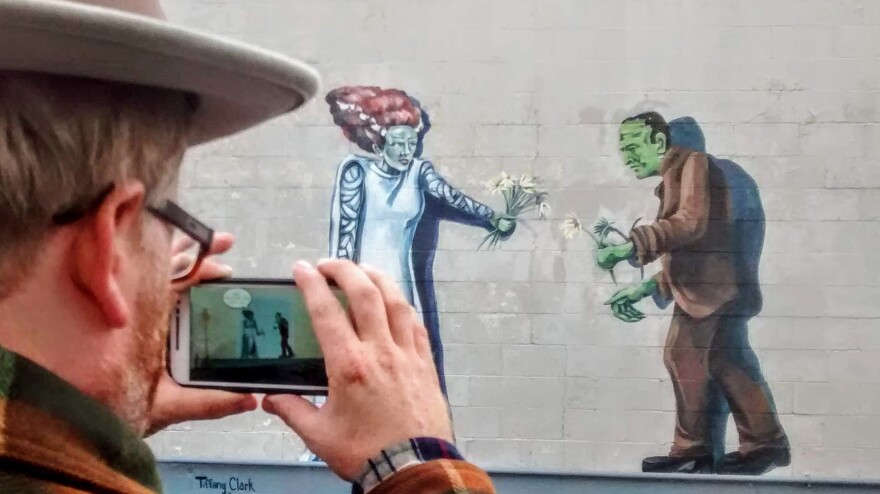 What do you call it when your smart phone camera shows you things that aren't really there? That's augmented reality, superimposing a computer-generated image onto what you're seeing through your camera's lens, changing your view of the world around you.
At the offices of Mile Two, a digital technology firm in Downtown Dayton, Ontario Britton holds up his phone, showing an elaborate Lego model he built.
"So my mom got me this Millennium Falcon last Christmas, I made it with my six boys. It took like a week, it was fun. But then I decided to use my computer vision with it."
On his phone's screen, the Millennium Falcon, a ship from Star Wars, flips open to reveal its inner compartments — cockpit, gun turrets and hyperdrive — even though the Lego itself can't be opened. These interior elements have been superimposed over the toy on the phone's screen. This is augmented reality, or AR.
Ontario Britton is the lead engineer on Escape to Fairborn, an AR game created by Mile Two. The genesis of the game was serendipitous; Britton was with coworkers at a Dayton entrepreneur event, and pitched the idea of an outdoor smart phone game to be played in Dayton.
"And then our owner here at Mile Two, Jeff, said, 'Hold that thought. Stop saying Dayton, start saying Fairborn.' So then we had this perfect lineup of, at Mile Two, always wanting to lean forward into what's cutting edge, and Fairborn wanting to try new stuff downtown to bring people in," says Britton.
In Escape to Fairborn, players work to solve puzzles and beat the clock. The game's first installment begins at Fairborn's Main Street mural of Frankenstein. The mural's artist, Tiffany Clark, was commissioned by Mile Two to add Frankenstein's bride to the work. On a cold morning, my husband Anthony and I head out to the mural to try the game.
As Anthony opens the app and points his phone at the mural, the once-static image of Frank and his bride suddenly comes to life: the two figures are moving and speech bubbles appear, and at the bottom of the screen, water begins to rise.
The game uses the historic Dayton flood as inspiration; Frankenstein and his bride are being washed off the wall by rising flood waters, and it's up to us to save them. It also acknowledges the way Fairborn was affected by that flood. Fairborn was once two towns, Fairfield and Osborn, until efforts to prevent future flooding forced Osborn's residents to pick themselves up, buildings and all, and move right next door to Fairfield. Eventually Fairfield and Osborn merged to become Fairborn.
As we continue to play, we're spotted by city manager Rob Anderson and downtown revitalization strategist Tonia Fish, who call out to us. They're the ones to whom Mile Two first pitched the game.
"We saw you playing our game, and we got all excited!" says Fish.
I mention to Anderson that we didn't see a timer on the game. He says that's by design for the first installment, which is meant to ease players into the gameplay before the remaining five installments are released.
"We're just trying to get people used to it, get them to come down here, let them enjoy it," says Anderson.
Back at the company Mile Two, Ontario Britton says that the game is only played in outdoor spaces, but that future installments will invite players into downtown businesses to take a break when they're nearby. And since these installments will be timed, taking a break to go inside a business will stop the clock. The game might also offer deals from those businesses, and if you partake of a deal, you get a bit of extra time added to your clock.
Britton stresses that Escape to Fairborn shouldn't be compared with that other, infamous AR game that took the world by storm a few years ago, Pokemon Go.
"The whole point of this is to direct people into real experiences with Main Street, not to give you something to do as if you're not there at all, and then ignore the environment, which is what Pokemon Go largely did."
Mile Two's director of products, Jamie Howard, says she thinks the game will connect folks, to each other and to the history of the Miami Valley.
"I think it is a more social, not just you and your phone, type interaction," says Howard. "Honestly, so I said I've lived here my whole life — I hadn't heard about that whole story of the two cities coming together. I thought that was really neat, to learn about it. And learning about it in an interactive way, I think is going to be even better for people."
Oh, and by the way, the game's story does feature a villain, but to find out who it is, you'll just have to play.
Culture Couch is made possible by a generous grant from the Ohio Arts Council.